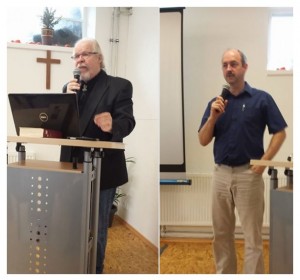 http://youtu.be/VjzJZFb9Idw  You Tube Link
Tom's Erste Deutsche Predigt Freedom=Freiheit in Der Arche unter Pastor David Grigoras
In late January we finally arrived back in Central Europe. We are settling in Gailingen Germany on the upper Rhine River. We are surrounded on 3 sides by Switzerland to our East, West and across the Rhine to the South. A beautiful area just to the East of Lake Constance.
Rose is helping our YWAM (Youth With A Mission) friends as a Nanny for their 8 year old daughter. We met this wonderful Canadian/German couple a decade ago in Northern Germany and we quickly became good friends.
The local Church has asked us to minister, and Tom (Tommy Lee) has just delivered his first Sermon in German. This past Sunday, Pastor David Grigoras of The Ark in Salem, North of Lake Constance  invited Tom to share his heart from the Podest. Freedom of the Saints was the subject.
Looking forward to see what Father has planned for us.
Ende Januar sind wir nun endlich wieder in Zentral Europa angekommen. Wir lassen uns in Gailingen am Hochrhein in Sueddeutschland nieder. Wir sind von der Schweiz umgeben, von Osten, Westen und von ueber dem Rhein im Sueden. Eine wunderschoene Gegend Ostlich vom Bodensee.
Rose hilft unseren YWAM=JMEM (Jugend Mit Einer Mission) Freunden als Kindermaedchen mit deren 8jaehrige Tochter. Wir haben dieses wunderbare kanadisch/deutsche Ehepaar vor 10 Jahren in Norddeutschland getroffen und wurden schnell gute Freunde.
Eine naheliegende Gemeinde hat der Pastor uns gefragt, ob wir dienen moechten, so hat Tom (Tommy Lee) gerade seine erste Predigt in Deutsch gebracht. Am vergangenen Sonntag hat der Pastor der Gemeinde "Arche" in Salem, noerdlich vom Bodensee, Pastor David Grigoras, Tom eingeladen zu teilen, was ihm aufs Herz gelegt wurde. Freiheit der Seligen war das Thema.
Wir sind gespannt, was unser "Papa" noch fuer uns geplant hat.